Lego Batman Movie - The Joker Balloon Escape 70900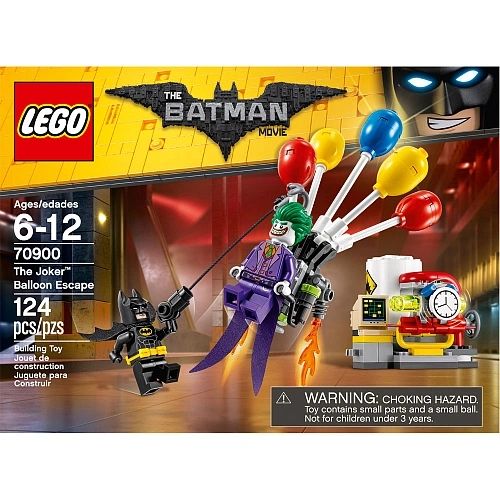 Lego Batman Movie - The Joker Balloon Escape 70900
The Joker has planted a bomb at the Gotham City Energy Facility! Team up with Batman to intercept him before he blows up the power plant. Dispose of the bomb safely, but watch outThe Joker is putting on his balloon backpack and launching his escape. Aim the grappling gun and take down that grinning Super-Villain! Stage a face-off between The Joker and Batman at the Gotham City Energy Facility in THE LEGO BATMAN MOVIE: The Joker Balloon Escape set, featuring The Joker's detachable balloon backpack and a power plant build. The power plant has a movable bomb element and silo with explode function, while Batman is armed with a grappling gun to intensify role-play battles. Includes two minifigures.


Includes two minifigures: Batman and The Joker.
The Joker's balloon backpack features five balloon and two translucent flame elements.
The power plant features a silo with explode function, pipes, plus computer, pressure meter and bomb elements.
Weapons include Batman's grappling gun with string attached.
Accessory elements include Batman's cape and new-for-spring-2017 molded utility belt, and The Joker's special purple coat-tail.
WARNING: CHOKING HAZARD - Set contains small parts and is not recommended for young children. Use with caution around pets.