Lego City - City Square 60097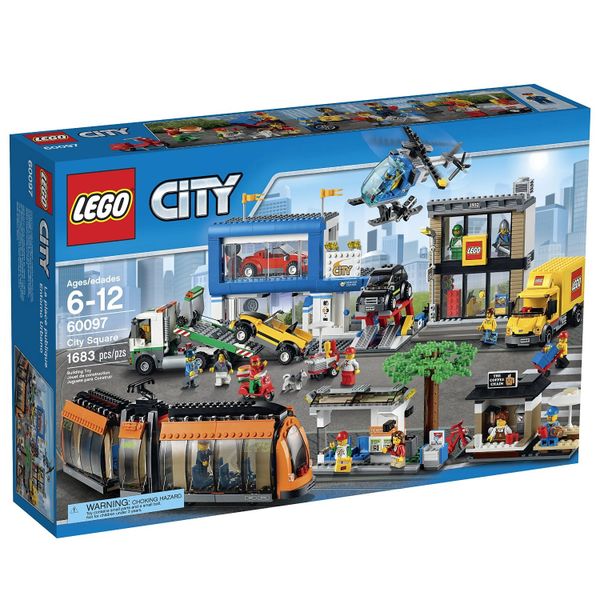 Lego City - City Square 60097
Its buzzing with activity at the City Square!
Park your bike at the cozy coffee bar, hop aboard the awesome news helicopter and take to the skies for a birds-eye view. When you're done flying, call by the LEGO® Store where a new delivery has just arrived. Help the driver unload the boxes, place them on the handcart and wheel them into the store. Then check out the cool cars for sale at the dealership showrooms. Help the mechanic operate the car lift and fit a new set of sporty alloy rims. Theres just time to buy a hotdog and a newspaper for the journey home, but watch out for the pizza deliveryman on his speedy scooter as you head for the tram stop! Load your bike into the bike compartment, take a seat and watch the world go by as you travel through the LEGO City streets. What an exciting day!
Includes 12 minifigures with assorted accessories: a tram driver, helicopter pilot, coffee shop saleswoman, pizza deliveryman, car saleswoman, mechanic, tow truck driver, hotdog salesman, LEGO sales person, LEGO delivery driver, a girl and a boy. Also includes 2 LEGO store statues.

Enjoy an awesome day at the busy City Square!
The City Square has a LEGO® Store, car dealership, 3 cars, tow truck, LEGO truck, helicopter, tram, tram stop, bike and 12 minifigures.
Features a tram, LEGO Store, LEGO delivery truck, helicopter, car dealership, 3 cars, tow truck, bike, pizza delivery scooter, tram stop, coffee shop, hotdog stand and a newsstand
Car dealership features 2 showrooms with sliding, transparent doors, 4 alloy wheels and a service center with functioning car lift
Number of pieces: 1683
Recommended for ages 6 to 12 years.
NOTE: Due to the weight of this item, we regret that it does not qualify for free shipping a nominal charge of $30.00 (CDN) will be applied to Canada & USA orders. (For shipping outside of North America - this rate will apply for surface shipping only. If Air Mail is requested, additional funds will be charged).
WARNING: CHOKING HAZARD - This building set contains small pieces and is not recommended for small children. Use with caution around pets.