Lego City - Volcano Crawler 60122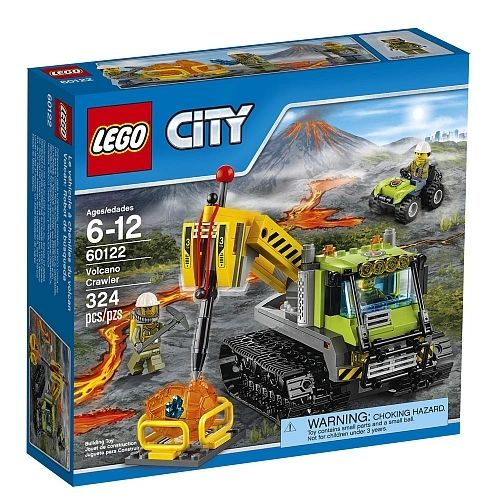 Lego City - Volcano Crawler 60122
Make bigger discoveries with the versatile Volcano Crawler, featuring wide tracks to move over any obstacles, a big jackhammer arm that rotates on its base and moves up and down, a boulder rack to hold rocks in place and an ATV with a chain to move boulders around. Includes 3 minifigures.
LEGO CITY Volcano Crawler 60122 features:
Features a Volcano Crawler, ATV and a boulder rack.
Volcano Crawler features wide tracks that move and a large jackhammer on the back that rotates on its base and extends.
Use the ATV to pull the boulder into place.
Bring the crawler's jackhammer down onto the boulder to crack it open.
Headgear accessory elements include 2 hard hats and a baseball cap.
Number of pieces: 324
Recommended for ages 6 to 12 years.
WARNING: CHOKING HAZARD - This set contains small pieces and is not intended for ages under 3 years. Use with caution around pets.