Lego Creator Expert - Winter Toy Shop 10249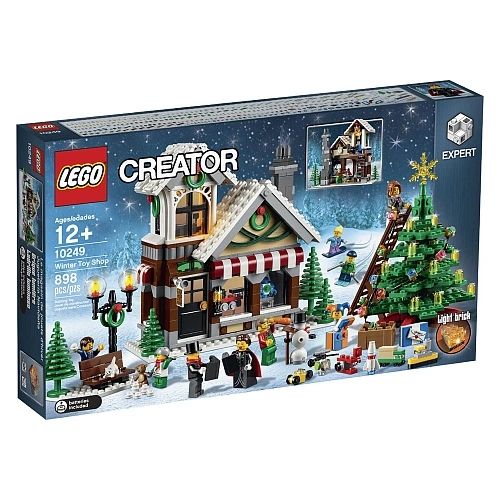 Lego Creator Expert - Winter Toy Shop 10249
Welcome to the Winter Toy Shop! The holiday season has arrived and the toymaker is busy finishing off his latest creations! Outside, children ski and snowboard, and a freshly built snowman sparkles in the light that shines from the toyshop tower. Help decorate the huge tree that stands at the center of the square, play with the curious kitten on the cozy wooden bench or join in with the carolers beneath the ornate streetlamp. This charming set also features a ladder, trees in various sizes, jack-in-the-box, a toy biplane, helicopter, rocket, train, race car, truck, robot, tugboat, teddy bear and a wrapped gift. Have fun building this enchanting winter wonderland!
Includes a snowman and 8 minifigures with assorted accessories: a male caroler, female caroler, a woman, 2 men, 2 boys and a girl.

Features a toyshop, large Christmas tree with decorations, ladder, bench, ornate streetlight, carrot-nosed snowman and a cat
Toyshop features a LEGO light brick, cash register, clock, chair, table, tools and a ladder
Accessories include a wrapped gift, snowboard, skis, 5 wreaths, 2 sets of strings lights, 2 top hats, 2 carol songbooks and 10 toys.
Enjoy the holiday season with this fun, festive model! Also includes trees in various sizes and snow elements. Includes 898 assorted LEGO elements.
Winter Toy Shop measures over 6 (17cm) high, 7 (19cm) wide and 3 (10cm) deep. Christmas tree measures over 5 (15cm) high, 4 (11cm) wide and 4 (11cm) deep.
Number of pieces: 898
Recommended for ages 12 years and up.
WARNING: CHOKING HAZARD – This set contains small parts and is not intended for children under 3 years. Use with caution around pets.
NOTE: THIS ITEM IS CURRENTLY OUT OF STOCK. Please contact us about availability prior to ordering.