Lego DC Super Hero Girls Harley Quinn To The Rescue 41231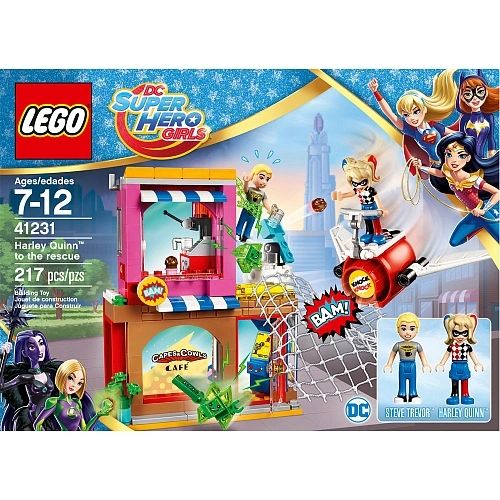 Lego DC Super Hero Girls Harley Quinn To The Rescue 41231
Help! Mischievous green Kryptomites have broken into the café, locked Steve Trevor on the roof and are trying to break into the safe! Zoom in with Harley Quinn on her jet to save the day. Dodge the cupcakes the Kryptomites are launching and shoot the net to capture them before they get away. Eat some yummy pizza to celebrate and then make sure the secret comic is safe! Join in the action-packed LEGO DC Super Hero Girls world as Harley Quinn battles the mischievous green Kryptomites at the Capes and Cowls Café. This great set features Harley Quinn and Steve Trevor mini-doll figures, a two-level café building with a cupcake catapult and rotating arcade machine, plus Harley Quinn's jet with movable wings, a net shooter, and two mischievous green Kryptomites.


Features a two-level café building with a cupcake catapult, rotating arcade machine, table that transforms into a computer and a breakable window.
Also includes a jet with net launcher on the front and movable wings.
Launch the net from Harley Quinn's jet to capture the Kryptomites and rescue Steve Trevor from the roof.
Accessory elements include a net, chain, comic, money note, coffee machine, pizza, two cups and two cupcakes.
Café measures over 5" (14cm) high, 4" (11cm) wide and 2" (7cm) deep.