Lego DC Super Hero Girls Super Hero High School 41232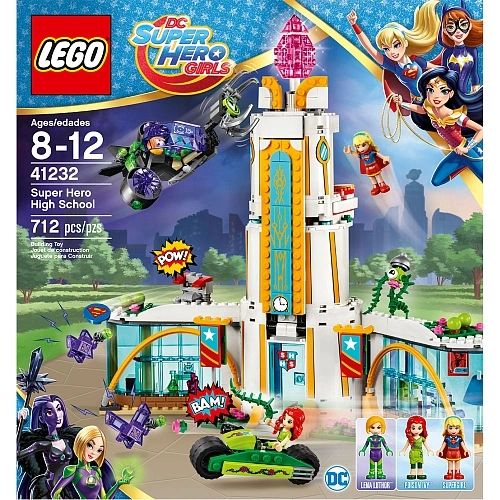 Lego DC Super Hero Girls Super Hero High School 41232
Join the Super Hero Girls as they head to school! Visit Frankie, Poison Ivy's plant, as she feeds him some super growth formula so he can change forms, before taking a break in the café at the top of the school with Supergirl. Wait, was that the alarm? Quick, put the school in defense mode and help Poison Ivy and Supergirl protect the valuable amethyst from Lena Luthor and her hypnotized purple Kryptomites! Join in the action-packed LEGO DC Super Hero Girls world as Supergirl and Poison Ivy battle Lena Luthor. This great set features three mini-doll figures, a three-level school building with swiveling classrooms, café, extending ramp, chain and disc shooters, Poison Ivy's motorbike and Lena's jet with rotating thrusters and a gripping claw at the front, plus two hypnotized purple Kryptomites.


Includes three mini-doll figures: Supergirl, Poison Ivy and Lena Luthor, plus Poison Ivy's plant Frankie and two hypnotized purple Kryptomites.
Features a three-level school building with a large amethyst element on top, two swiveling classrooms with tables, seats and rotating screens, and a café with a TV screen at the top level of the school.
School transforms into defense mode with a ramp that lowers, rotating flags at the front, disc shooter on the roof of one classroom and a chain shooter on top of the school.
Lena Luthor's jet includes an opening cockpit, rotating thrusters and a rotating gripping claw on the front.
School measures over 11" (30cm) high, 12" (33cm) wide and 3" (10cm) deep.