Lego DC Super Hero Girls Wonder Woman Dorm 41235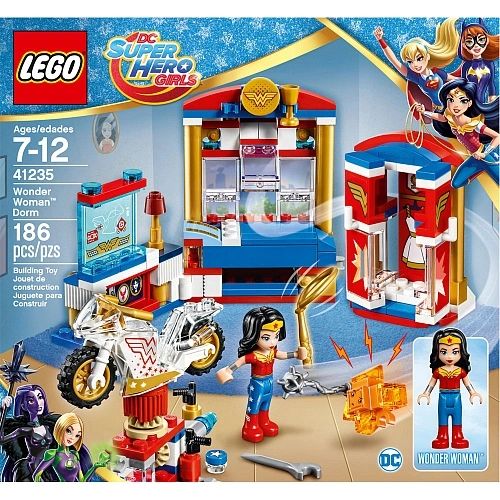 Lego DC Super Hero Girls Wonder Woman Dorm 41235
Help Wonder Woman as she repairs her invisible motorbike after class. Be careful though! That wicked little Kryptomite has snuck into the wardrobe and is trying to snatch Wonder Woman's Golden Lasso. Quick now, close the wardrobe doors! Caught you! Keep your evil little claws off Wonder Woman's lasso! Be part of the action-packed LEGO DC Super Hero Girls world as Wonder Woman protects her Golden Lasso from the Kryptomite. This great set features a Wonder Woman mini-doll figure, dorm room with an opening window, bed with a secret drawer/screen, separate opening wardrobe and workstation, plus an invisible' motorbike, tool/paint and a suspicious orange Kryptomite.


Includes a Wonder Woman mini-doll figure, plus a suspicious orange Kryptomite.
Features a bed with opening window and space for a trophy above and storage space below for a drawer/screen, plus an opening wardrobe.
Also includes Wonder Woman's invisible' motorbike, plus a workstation with a rotating platform for the motorbike.
Set the invisible' motorbike on the workstation's rotating platform.
Sneak the Kryptomite through the window and into the wardrobe to steal the Golden Lasso.
WARNING: CHOKING HAZARD - This set contains small parts and is not intended for children under 3 years of age. Use with caution around pets.