Lego Friends - Amusement Park Rollercoaster 41130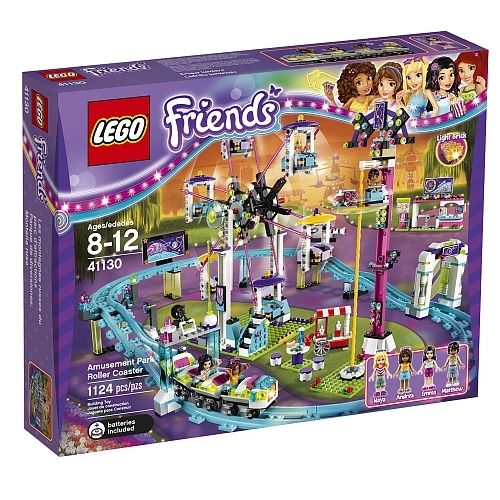 Lego Friends - Amusement Park Rollercoaster 41130
Push the LEGO Friends Amusement Park Roller Coaster around the track, sit a mini-doll in the front carriage to activate the light brick, and activate the cool functions as you go! Turn the Ferris wheel with its swinging gondolas, then push the car to the top of the drop tower and release to watch it go spinning round. This set is full of detailed functions and accessories for a day at the iconic Amusement Park. Includes 4 mini-doll figures.
LEGO FRIENDS Amusement Park Roller Coaster 41130 features:
Features a roller coaster, Ferris wheel, drop tower, entrance booth and a dining area.
The push-along roller coaster features 4 carriages (each sitting a mini-doll), functioning light brick, entrance area with opening safety barrier, control panel with levers, camera and a long track with various obstacles along the ride.
The rotating Ferris wheel features steps up to 6 hanging gondolas (each seating a mini-doll).
The drop tower features 2 cars with opening safety bars, exciting spinning function as it drops, and a camera.
Amusement Park accessory elements include 2 tickets, coin, bill, 2 photographs and a map.
Number of pieces: 1124
Recommended for ages 8 to 12 years.
NOTE: Due to the weight of this item, we regret that it does not qualify for free shipping. A modest shipping cost of $7.50 will be applied.
WARNING: CHOKING HAZARD - This set contains small parts and is not intended for children under 3 years. Use with caution around pets.