Lego Nexo Knights Macy's Thunder Mace 70319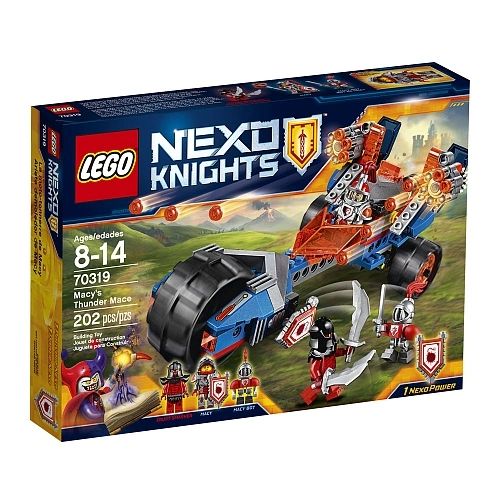 Lego Nexo Knights Macy's Thunder Mace 70319
Twist the handle at the back of Macy's Thunder Mace to pop up the 2 rapid-fire stud shooters. Fire at the Crust Smasher or remove Macy and the Macy Bot from the vehicle and role-play battle scenes using the Photon Mace and 3 swords. Includes 3 minifigures and a scannable shield.
LEGO NEXO KNIGHTS Macy's Thunder Mace 70319 features:
Macy's Thunder Mace features 2 cockpits for Macy and the Macy Bot, dual pop-up rapid-fire 6-stud shooters and holders for Macy's Photon Mace and shield.
Turn the wheel to reveal the pop-up shooters and fire at the Crust Smasher.
Weapons include Macy's Photon Mace, the Crust Smasher's dual swords and the Macy Bot's sword.
Accessory elements include Macy's helmet, visor, shield and NEXO armor, the Macy Bot's helmet and the Crust Smasher's helmet.
WARNING: CHOKING HAZARD - Set contains small parts. Not for children under 3 years. Use with caution around pets.