Lego Super Heroes - Batman Scarecrow Harvest Of Fear 76054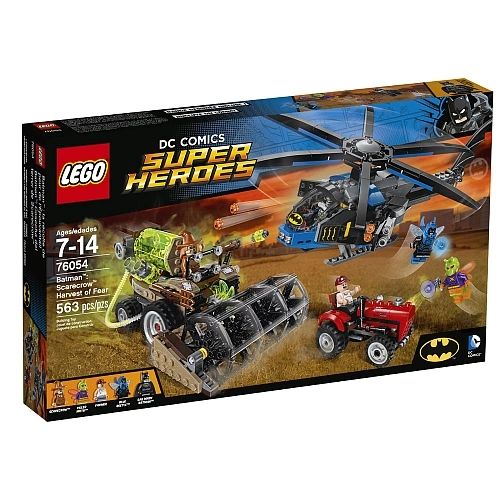 Lego Super Heroes - Batman Scarecrow Harvest Of Fear 76054
Stop Scarecrow and Killer Moth spreading fear on the outskirts of Gotham City with Gas Mask Batman's Batcopter, featuring an opening minifigure cockpit, 4 pop-out stud shooters and a 6-blade spinning rotor. Team up with Blue Beetle in aerial battle to protect the tractor-driving farmer. Evade the harvester's rotating cutters and detachable fear gas stud shooter, and prevent the villains capturing the farmer in its fear gas tank. Includes 5 minifigures.
LEGO SUPER HEROES Batman: Scarecrow Harvest of Fear 76054 features:
Features Batman's Batcopter, Scarecrow's harvester and the farmer's tractor.
Scarecrow's harvester has rotating cutters, an opening translucent-green fear gas tank to capture the farmer and a detachable fear gas stud shooter.
The farmer's tractor features a steering wheel and an exhaust pipe.
Accessory elements include Gas Mask Batman's gas mask and cape, Scarecrow's hat, Blue Beetle's power element and Killer Moth's mask.
Batcopter measures over 3" (10cm) high, 12" (31cm) long and 9" (24cm) wide.