Lego Super Heroes - Spider-Man Web Warriors Ultimate Bridge 76057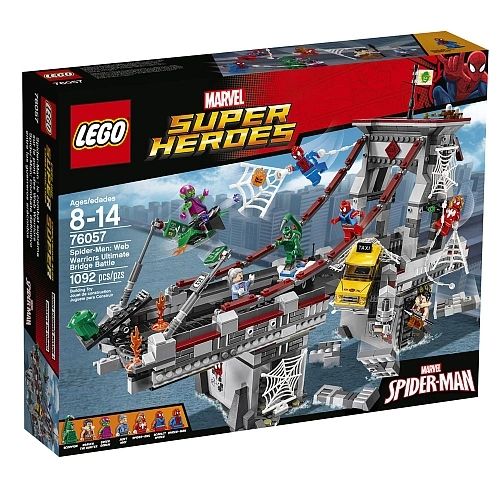 Lego Super Heroes - Spider-Man Web Warriors Ultimate Bridge 76057
Role-play battle scenes with the web warriors protecting Aunt May from Green Goblin, who has a flaming pumpkin bomb and a Goblin Glider with stud shooters, along with Kraven the Hunter and Scorpion. Press the bridge's flag to launch a net to trap the villains, or launch a Super Hero from the side of the bridge and swing into action. Create wall explosion effects in this action-packed set, which also features a trap door, catapult, Spider-Man's web prison and Kraven the Hunter's secret lair. Includes 7 minifigures.
LEGO SUPER HEROES Spider-Man: Web Warriors Ultimate Bridge 76057 features:
Features a bridge section, Goblin Glider, taxi and a police ATV.
Bridge features a movable roadway and detachable suspension cables, catapult function to fire the trash can, trap door, Spider-Man's web prison, Kraven the Hunter's secret lair with translucent diamond elements, traffic lights to stop the traffic and explode the pillars of the bridge, and movable signposts for the Green Goblin's Goblin Glider to smash through.
Goblin Glider features movable wings and 2 stud shooters.
Accessory elements include 2 web blasts, 2 web ropes, web net, Green Goblin's flaming pumpkin bomb, 3 translucent diamond elements, 2 translucent fire elements and Peter Parker's camera.
Bridge measures over 12" (33cm) high, 5" (13cm) wide and 17" (44cm) deep.
Number of pieces: 1092
Recommended for ages 8 to 14 years.
WARNING: CHOKING HAZARD – This set contains small parts and is not intended for children under 3 years. Use with caution around pets.