Lego Super Heroes - Spiderman Ghost Rider Team-Up 76058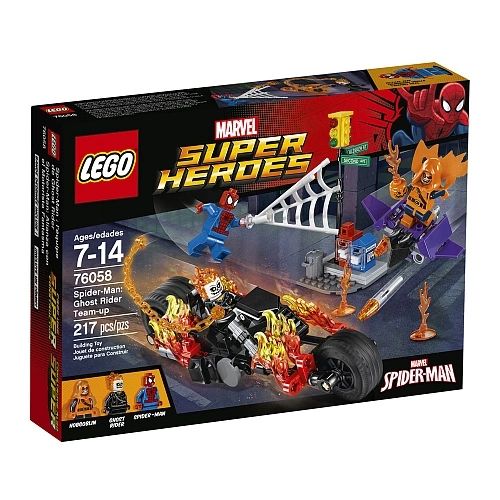 Lego Super Heroes - Spiderman Ghost Rider Team-Up 76058
Stage a street battle scene as Spider-Man and Ghost Rider join forces against Hobgoblin. Dodge the Goblin Glider's missiles and flaming pumpkin bomb, and use Ghost Rider's fire chain to catch the evil demon. Knock Hobgoblin off his Goblin Glider or the top of the traffic light with Spider-Man's Super Jumper. Includes 3 minifigures.
LEGO SUPER HEROES Spider-Man: Ghost Rider Team-up 76058 features:
Features a Ghost Rider Bike, Goblin Glider and traffic light model.
Traffic light model includes traffic lights, 2 translucent flames, 2 newspaper boxes with 4 newspaper elements inside, and a trash can with trash elements.
Weapons include Ghost Rider's fire chain and Hobgoblin's flaming pumpkin bomb.
Accessory elements include Spider-Man's web blast and Super Jumper.
Ghost Rider Bike measures over 1" (4cm) high, 6" (17cm) long and 1" (5cm) wide.
Number of pieces: 217
Recommended for ages 7 to 14 years.
WARNING: CHOKING HAZARD - This set contains small parts and is not intended for children under 3 years. Use with caution around pets.