Lego Super Heroes - Super Hero Airport Battle 76051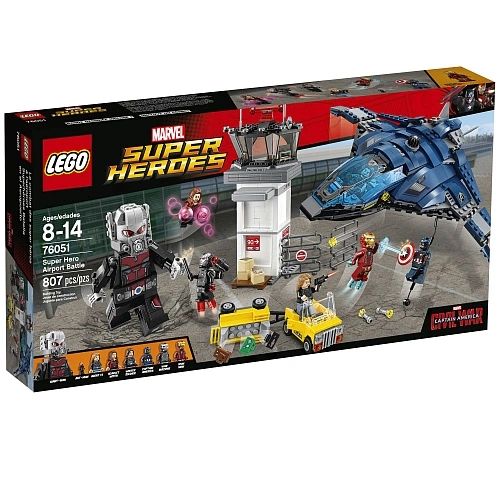 Lego Super Heroes - Super Hero Airport Battle 76051
Stage an epic battle at the airport, featuring an air traffic control tower with 2 different explode functions and a luggage cart with an explode-function rear trailer. Fold out the wings of the dual cockpit Quinjet to take off and open the rear hatch to drop the rope for Captain America to grab. Then turn the switch to unleash the jet's hidden stud shooters.
Includes 6 minifigures: Captain America, Winter Soldier, Scarlet Witch, Iron Man, War Machine and Agent 13, plus an Ant-Man microfigure and a buildable Giant Man figure.

Air traffic control tower features a visual control room with a swivel chair, second-floor office with computer screen element and opening cupboards and exploding wall function, first-floor room with opening side door and exploding boxes function activated by pushing the Ant-Man microfigure through a tiny hole in the wall, plus an attached fence.

Turn the switch on the Quinjet to reveal the hidden stud shooters underneath. The Quinjet also features an opening dual cockpit, foldout wings for flight and landing modes and an opening rear hatch with a rope for a minifigure to grab onto.

Activate the explode function on the rear trailer of the luggage cart to send 3 suitcase elements flying!

Accessory elements include Captain America's shield, Scarlet Witch's power studs and Iron Man's power element.

Air traffic control tower measures over 10" (27cm) high, 9" (23cm) wide and 3" (8cm) deep.

Number of pieces: 807
Recommended for ages 8 to 14 years
WARNING: CHOKING HAZARD - This set contains small parts and is not intended for children under 3 years of age. Use with caution around pets.